Solar Panels in Calgary: Costs, Savings and Planning
Have you considered renewable energy for your home? We have seen a major increase in solar panels in Calgary.
From enjoying lower electricity bills to supporting the climate change movement and affordable government incentives, there are many reasons why the demand for solar panels in Calgary is higher than ever before.
In this comprehensive article, we'll look at the basics of solar installation in Calgary, the costs you should expect based on varying factors, and the savings and support you can leverage if you're ready to commit to solar. Let's begin.
Solar Installation in Calgary
Whether you're simply browsing about all things solar panels in Calgary, or you're looking to have your very own solar panels installed, you're probably wondering about solar installation in Calgary. So let's dive into it.
Below we answer some questions that may be coming into mind, like why people are choosing to install solar panels, and where you can buy solar panels from.
Why install solar panels?
There are a multitude of reasons why a household may choose to install solar panels in Calgary, but the top four reasons are as follows:
They support the environment
With a global Climate Change Movement in full swing, people are beginning to look for sustainable alternatives. From reusable bags to shopping second-hand, all the way to installing solar panels.
Because sunlight is a renewable resource, it's a proven alternative to the current electricity model which is powered by coal. As we use electricity every day, switching to solar makes a powerful impact.
They are cost-effective
Simply put, solar power is a cheaper alternative to the electricity grid. Having the majority of your electricity powered by solar panels in Calgary reduces your electricity bills exponentially, all thanks to the amount of sun we receive here.
They make your house more sellable
There is a growing demand and social interest for solar panels in Calgary and across Canada, and because of that, people are looking to buy houses with solar panels already installed.
Therefore, if you're thinking of selling in the future, one way to make your house more appealing, and to even increase your selling price is to install solar panels.
Government rebates make them appealing
Lastly, people are choosing to install solar panels in Calgary because it's more accessible now than it was before. From affordable repayment incentives to Government rebates, there is more support to install solar panels. But we'll touch on that a little later.
Where can I buy solar panels?
Typically, most solar panel companies are turnkey. That means, they take on majority of the work for you from sourcing the solar panels to doing the solar installation. 
At Zeno, pride ourselves on being the local solar experts here in Calgary.
We source our solar panels and materials from industry-leading partners to ensure you are getting the highest quality solar panels for your household.
When you purchase solar panels in Calgary or the wider regions from us, you don't just get top-of-the-line products and installation.
You also get Zeno's solar panel production guarantee and craftsmanship guarantee, which you can find more about here.
How much do solar panels in Calgary cost?
How much do solar panels in Calgary cost?
While there are many factors that affect the price for solar panels, the average cost to install solar panels can fall anywhere between $12,000 to $19,000 after rebates. 
This price range is typically quoted for turnkey solar panel installations for your home. Administrative fees (Microgen application, permit application), materials, and labour are included in the cost of solar panels for your Calgary home.
While this gives you an idea of how much solar panels can potentially cost, it is always best to speak to a local Calgary solar company to determine how much you will actually pay for solar panels.
Pro Tip: Find out how much your home can save with solar panels with the Zeno Solar Savings Calculator!
Factors that affect the cost of solar panels in Calgary
The cost for installing solar panels in Calgary will depend on many different factors. This is because every home is unique and not everyone will have the same energy consuming habits.
When Calgary solar companies quote you for solar, the following factors are typically considered for the cost of solar panels: electricity usage, roof layout, electrical panel capacity, and the type of solar equipment used. Let's break them down below.
Electricity Usage
Your electricity consumption affects how big your Calgary solar panel system should be. Your Calgary solar company will typically ask you for your historical electricity usage for the year before to determine how big or small they should size your Calgary solar panel system.
At Zeno, we typically aim to size our customer's Calgary solar panel system to offset the entire year's usage. Our goal is to hit 100% energy offset for the year so that customers don't rely on the electricity grid as much for their daily electricity usage.
Roof Layout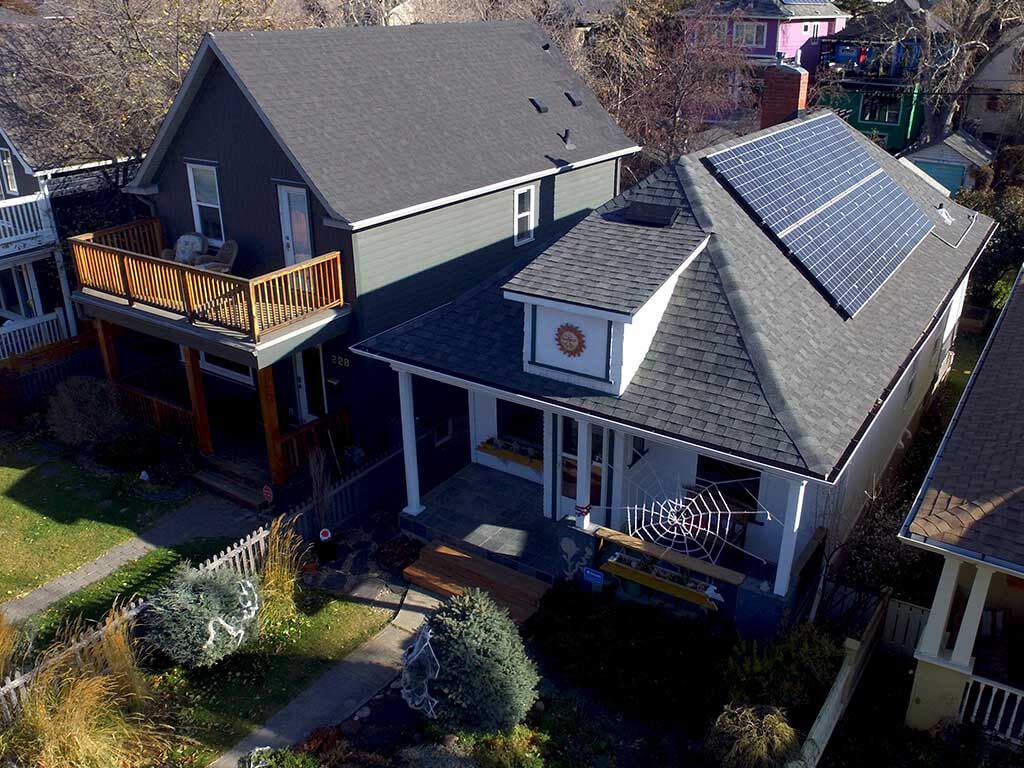 Calgary solar panels are put on top of your roof, therefore, your roof plays a big part in the cost of your solar panels.
Typically, the best homes for solar panels in Calgary have roofs that are south facing, followed by a mix of south, east, and west facing roof layouts.
Not every home's roof is ideal for solar and there are instances where your Calgary solar company may turn you away.
For example, if your home faces dead north, your Calgary solar company will advise you not to go solar. They will then assess which parts of your roof make sense for Calgary solar panels, which in turn will limit the size of your solar panel system.
Roof Type
Your roof type can play a huge factor for the cost of Calgary solar panels as well.
Standard roofs (i.e. asphalt shingle) are typical types of roofs that Calgary solar companies deal with on a frequent basis. Therefore, standard rates apply.
However, if your roof has a unique material, such as clay tile roofs or metal seams, then an additional cost will be added to take extra care when installing your Calgary solar panels.
Pro Tip: If your roof shingle is approaching the end of its life cycle, be sure to get your roof replaced before going solar!
Electrical Panel Capacity
The electrical panel capacity on your home will also affect the cost of your solar panels in Calgary.
If your electrical panel has enough space for solar, then your Calgary solar company can use what is currently existing for your home.
However, if additional space is required, your Calgary solar company will advise upgrading your electrical panel in order to make room for solar. This often happens for homes with extra large energy loads such as hot tubs, air-conditioning, owning an electrical vehicle, and more.
Solar Panel Equipment
Your solar panel equipment will affect the cost of solar panels in Calgary.
For example, are you looking to get standard inverters or microinverters? Is there a brand you have preference over? Typically, your solar panel installer will always recommend Tier 1 solar panel equipment (the best in the industry) that is approved in Canada.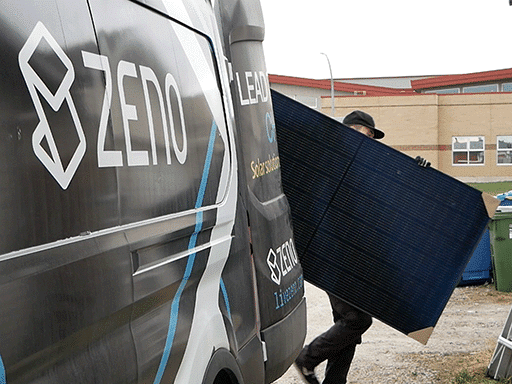 Factors that reduce the cost of solar panels
So you're looking to get the best priced solar panels in Canada without compromising on quality, you don't necessarily have to look harder, but smarter. There are a range of avenues you can utilize to finance your solar panels in Calgary, from rebates to financing programs. Let's explore them below.
Solar panel rebates
Currently, the Government of Canada is making solar more accessible to homeowners across the country. The Canada Greener Homes Grant covers $1.00/W on the total system capacity and up to $5,000 off the total solar system cost.
For more information on the Canada Greener Homes Grant, click here.
Other ways to afford solar panels in Calgary
If you aren't eligible for a government grant or you're in need of a little more financial assistance to afford solar panels in your home, then there are a few other options available.
Canada Greener Homes Loan
The Canada Greener Homes Loan is a 10-year interest-free financing loan option available to all Canadians who want to make their homes more energy efficient and take out a loan for their solar panel system. Learn more here.
ATB Financial
At Zeno, we partner with ATB Financial to offer you secure and speedy financing solutions. To find out more about this, contact our friendly team today.
PACE Alberta
PACE Alberta (Property Assessed Clean Energy) empowers owners and developers to enhance their building's energy performance by installing renewable energy alternatives through financial support. You can read more here.
RBC
The Royal Bank is currently offering affordable programs to finance solar in particular. These programs include an interest rate discount, flexible terms and even skip-a-payment options. You can find out more about this program here.
Ready to get solar panels in Calgary?
As Calgary's highest rated solar company, we make going solar easy! Reach out to us today for a free quote.