CTV features Zeno Renewables in City of Calgary Solar Calculator
CTV features Zeno Renewables in the news, "Homeowners considering solar power have a new digital tool to help make the decision" by CTV journalist Kevin Green. The article covers a City of Calgary online solar calculator tool designed to educate Calgarians on the possible cost of going solar.
The City of Calgary online solar calculator tool is designed to give Calgarians a quick estimate and financial summary of the solar viability for their home. Users simply input information into the online solar calculator such their home address and approximate energy consumption for their home. The online solar calculator crunches some numbers and spits out an approximate cost one could expect to get for going solar in Calgary. While the online solar calculator provides this helpful information and data on solar viability, it is not designed to replace Calgary homeowners from getting a true estimate from Calgary home solar companies.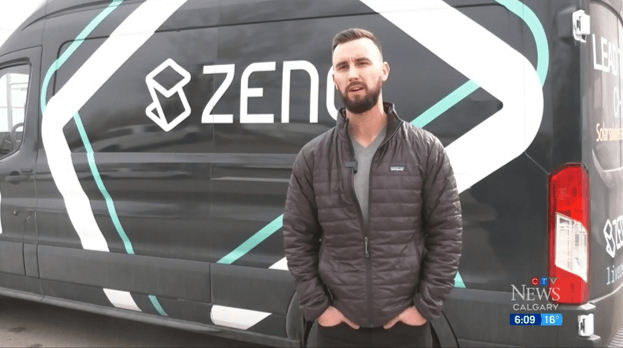 Going solar in Calgary: A positive outlook
Going solar is becoming more and more common in many places in Alberta such as Calgary. Zeno for example has seen an exponential increase in more Calgarians getting solar. The main reasons for this increase is that the technology has dramatically improved in recent years, resulting in more cost-effective and powerful solar panel technology. There are also solar panel rebates available to all Canadians . Eligible Canadians get up to $5,000 off their solar panel system. Additionally, solar just makes sense in Calgary. As one of the sunniest cities in Canada, many Calgarians can expect to pay back their system between 7 – 11 years.
Zeno also designed an online solar calculator that supplements the City of Calgary online solar calculator tool. Rather than providing the solar panel cost, Zeno's online solar calculator crunches out the potential solar savings you can get for the standard warrantied life span of solar panels.
Find out how much your home can save with Edmonton solar panels with the Zeno Solar Savings Calculator!
Solar panel assessment: Getting a true cost for going solar in Calgary
Now that you've gotten a general understanding of the cost of solar panels in Calgary and your potential savings, reach out to Zeno for a solar panel assessment! At Zeno, we make the process for going solar in Calgary easy! When you reach out to Zeno for a quote, we typically need the following:
Your most recent energy bill: This will help us determine the size of your system to help you offset your energy usage by 100%.
A photo of your electric panel: This is to determine if your new solar panel system can be integrated with your home's current electrical infrastructure. In some cases, an upgrade is required.
Your address: With your address, we use Google imaging in combination with our solar software to remotely design a custom system. We take into account factors mentioned above (i.e.: roof space, potential sunlight and shading structures)
Ready to get Calgary solar panels?
As Calgary's top and highest rated solar panel company, we make going solar easy! Reach out to us today for a free quote.